Radio station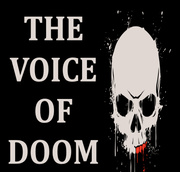 Update Required
To play the media you will need to either update your browser to a recent version or update your
Flash plugin
.
Playing a melodic mix of Death, Doom, Gothic, and Symphonic metal.
Music about hope and despair, love and pain, life and death.
...Sometimes Atmospheric
...Sometimes Dark
...Sometimes Heavy
...Sometimes Intense
...Always Good Tunes on The Voice Of Doom
About The Voice Of Doom
The Voice Of Doom is an online music station, dedicated to playing death, doom, gothic, and symphonic metal. We aim to bring you an enchanting mix of melodic metal, and constantly check out new tracks, while also trying to find rare offerings from the past. The station was born out of a belief that these genres of music were (and still are in our opinion), massively underated especially within the United kindom. Our playlist encompasses bands from all over the world, including Argentina (Beto Vázquez Infinity), Brazil (Hydria), and Tunisia (Persona). Doom metal, described by some as beautiful music to die to, since its lyrics often decribe a sense of despair, dread, impending doom, is typified by bands like Funeral from Norway, and Swallow The Sun from Finland. Death metal with its deep growling vocals, and aggressive powerful drumming, is typified by bands such as Crematory from Germany, or In Flames from Sweden. Gothic metal with lyrics that are generally dark and introspective with inspiration from gothic fiction, typified by bands such as Paradise Lost from the UK, or Lacuna Coil from Italy. Symphonic metal combines the heavy drums and guitars of metal with different elements of orchestral classical music which often include female vocals, and is typified by bands such as Nightwish from Finland, or Xandria from Germany. Of course the music created by many bands sits between one or more of the above genres. As a listener to our station, your hear the full spectrum of this style of music, from the haunting vocals of Stefanie Duchêne in Flowing Tears, to the power and intensity of Ronny Thorsen in Trail Of Tears, brought to you commercial free. We hope you enjoy our music, if so please tell your friends, help promote the station, and support the bands you like by buying their music.
We broadcast from a state of the art studio to bring you the very best sound quality. Currently our equipment includes Marantz Professional microphones, Orban Optimod audio processing, Behringer mixers, Soniflex audio controllers, Adam Audio studio monitors, ISOAcoustics audio isolation platforms, Sennheiser headphones, Pioneer, Plextor, and Denon CD players.
Want to know about a particular band? Then visit Metal Archives for more information.
Want to buy music? Then we recommending checking out Discogs or Bandcamp.
Think there is a band we need to check out? If so, please let us know.
Metal Speaks... Dont Stop The Music!
---