Radio station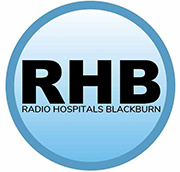 Radio Hospitals Blackburn
Radio Hospitals Blackburn
Update Required
To play the media you will need to either update your browser to a recent version or update your
Flash plugin
.
Radio Hospitals Blackburn, the working name for Hospital Radio, was established in 1954 and broadcasts to The Royal Blackburn Hospital, 24 hours a day.
For over 60 years we've been entertaining patients with the very best music.
About Radio Hospitals Blackburn
1954 or there about was when it all began. Two enterprising gentlemen, Mr Eddie Ellis and Mr Bill Cunliffe, decided to collect music requests from the patients in three Blackburn Hospitals. The requests were then recorded onto a tape in Eddie's garden shed and played back to the patients. Radio Blackburn as it was then known was born.
1958 four years later Radio Blackburn became one of the first hospital radio services in the country to provide football commentary, it was from Ewood Park, the home of Blackburn Rovers F.C. This service is still going strong thanks to our sports team of Stuart Wearden, Graham Wilbraham, John Shepherd and more. Barry Illsley was our longest serving member with fifty five years of distinguished service, a remarkable achievement. Until 2016 when sadly he left this world, he commentated on most of Blackburn Rovers home games since 1964.
Another person who deserves a mention is John Aitken who had served the radio station for over thirty six years in a wide variety of guises.
1964 brought a significant time in the history of RHB - we began our first live broadcasts. This took place from a member's wash-house in Old Feniscliffe road in Blackburn. From here we moved to our first studio which was housed in a room at the local Y.M.C.A.
1970 was the year that Radio Blackburn changed name to Radio hospitals Blackburn. This was around the same time that the BBC was about to launch their local station, Radio Lancashire. Shortly afterwards we expanded our hospitals to five. The list consisted of Queens Park Hospital, Park Lee Hospital, Blackburn Royal Infirmary, Withnell Hospital and Accrington Victoria Hospital.
1982 RHB moved to the administration block of the Park Lee Hospital where we remained until the hospital closed in 1998. After a gap of a few months we moved to our present studios within the grounds of The Royal Blackburn Hospital (Formerly known as Queens Park Hospital). The room that now houses our two studios, office space and record library (Yes we still have 12" albums and 7" singles) was converted from a bathroom / toilet. As the health authorities evolved over the years the list of hospitals were reduced.
2006 when the Blackburn Royal Infirmary closed we were reduced to one hospital.
2007 Myriad computerised playout system was purchased, this enabled us to launch into a 24 hours a day station which commenced on the 12 May 2008 at 6pm. We are building more new shows than ever before, take a look in our program lists to see what varied shows we are doing. Our aim is now to give as much variety as possible to reach out to many more listeners. For the Lancashire Telegraph report click here
2013 Monday the 18th March. RHB started broadcasting on the hour news from the Sky News Centre known as IRN.
2014 60th Birthday year. In January RHB started broadcasting the famous "The Bradshaws". On Wednesday the 17th September RHB launched its service on the internet. To listen now click the link at the top of the page.
2015 Tuesday 24th February we launched our webcam. You can now view studio 1 live from our Listen Live page on the website.
---